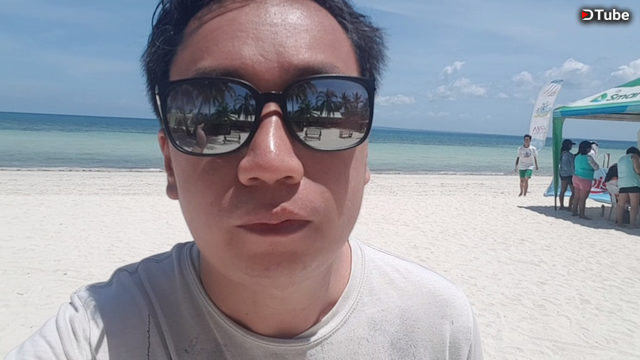 ---
So here we are with my first ever Dtube video. In fact, this is my first video ever because I am extremely camera shy. I don't even like taking selfies but rather like observing people instead. So I am sorry for being nervous.
I have even written down what I was going to say but when I start filming it just goes out the window.
I almost did not try to join this week's sndbox challenge just because of the video. Yet there are so many things to lose out if I did not try to attempt so here it is.
I apologize for the wind sounds and the beach volleyball game that you will hear while I was doing this video. It did say somewhere with people and I took the opportunity to do it while there was a game in session as well as showcase the beautiful beach of Anika Island Resort in Bantayan Island in Cebu.
I have heard of sndbox around November and know it is an incubator program to fuel the growth of Steem by creating events, meet-ups and having a community that supports people who are embarking their digital experience in Steem.
I have seen sndbox-alpha and how every month it would be supporting different topics in order to kickstart projects, initiatives, and topics that people like to write about.
I usually write about my musings on Steemit lately but the majority of the topics I write about delve into motivation, newbie guides, community building and, leadership.
One thing I really like writing about is the charity organization that we have @giftinkindph We have been providing school supplies and financial assistance to impoverished children and schools for the past 11 years.
We are particularly proud of adopting Banawen Primary School in Zambales which teaches the children of an indigenous tribe called Aetas.
Last year we have our first six kids that graduated from grade school and entered high school. That is a huge journey for them and we want to be able to continue helping them out.
If you want to know more you can click on the link below.
Promoting Steem to Gift in Kind Foundation| Our first step to modern fund raising
So why do I want to be in sndbox? Simplest answer is the support that sndbox can give me is going to be lifechanging. I am currently not even counted as a minnow as I have less than 500 SP but I have received delegations from some very nice people and I also rented some delegation from @blocktrades to further increase my SP.
Last December I found my Steem calling. I shifted my focus away from me and my depression to me helping build communities. In away with @ankarlie we have created several groups that help in mentoring and giving support to new people joining Steemit.
Later on, joined @promo-mentors headed by @futurethinker who is bridging that gap between newbies and veterans and helping people stay and get mentored by the best people in Steemit.
I have found myself smiling whenever we see people flourish.
So for me to continue helping people and building communities, sndbox help in making me grow will be huge. I will be able to gain more SP, give out more votes and maybe inspire more people to stay. I want to become a minnow and into a dolphin that will further engage the communities not just with the value of my upvotes but also through my comments that will inspire them to be more.
I want to be able to support our @giftinkindph so that we can continue giving the gift of education to the young children of the Aetas. They need all the help that they can get and it is my wish someday that the people that we help graduate will take over the Steemit account of @giftinkindph and continue on the legacy that we will leave behind.
So here I am vulnerable and shy but managed to do this video. So Dtube challenge unlocked!
Here is a youtube link as well of my video.