Brief History
steemgigs.org - A revolutionary steem-based freelance services marketplace & dream-building ecosystem, with its own knowledge-base, community and 'an untalented paradigm'. 
All aspects of the code is open-source:
This post announces some of our recent 'development' activities, to keep us abreast with our progress. In the past weeks, we have worked on core aspects of SteemGigs, that further establishes the framework of our vision. Our aim during our 'alpha-stage of development' is to give users, contributing-developers and potential-investors insight into the expanse of our vision via our user-interface. Below are some of the major additions to SteemGigs in the past weeks:
BROPRO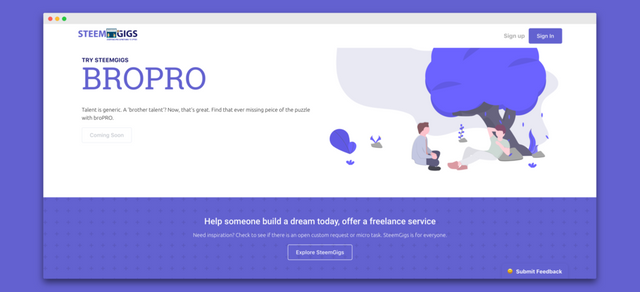 We have now built a basic framework for 'a core aspect of SteemGigs' called 'BROPRO'. This page currently displays a number of certified users who are willing to offer expert consultancy services in exchange for the teardrops tokens as seen below: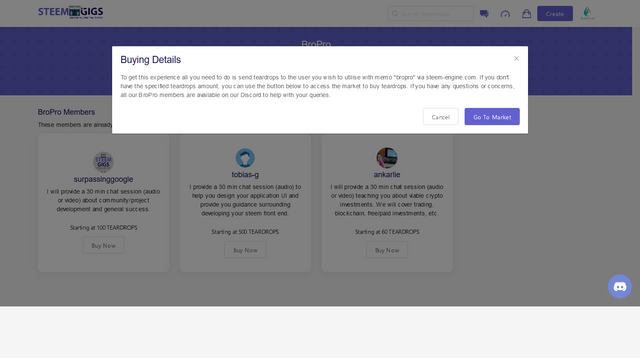 While the current BROPRO catalog is hard-coded, in the near future this page will build an entire marketplace featuring only certified uloggers. (Recall that certified uloggers will have access to 'all exclusive UI-perks across steemgigs.org, ulogs.org and macrohard.pro') 
We hope to use the BROPRO page to create/highlight some utility for the teardrops tokens even now, prior to the inception of the SMT protocol.  
A Microtasks Economy
We also began the framework that will integrate 'a microtasks economy' into SteemGigs, starting with the addition of a basic 'create a microtask' post-editor and a 'microtasks display column' on our homepage.
The microtasks economy especially helps non-experts to 'grow in their confidence and hone their skills or talents while transitioning into experts, all while being able to offer a service'. Hirers will also be able to 'pay with vote', which on its own is powerful. On SteemGigs, everyone has something to offer.
A Linkedin-like Economy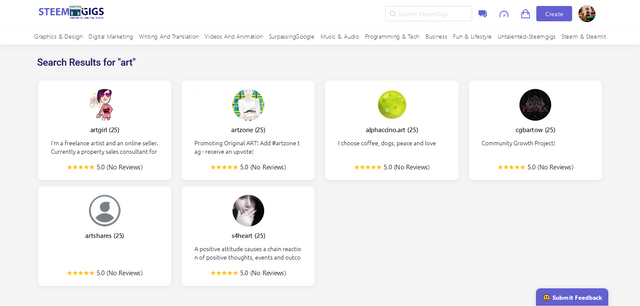 We have also began the framework for a 'linkedin-like economy'. SteemGigs as an enterprise should be capable of involving 'everyone' organically. A core aspect of our model is 'removing all barriers to entry in relation to dream-building'. Thus, we have started enhancing the SteemGigs search-engine to be able to locate 'related user-profiles' to a user's search query, where a user can't find 'an exact gig'. 
Looking at the screenshots below, you will notice that users now have the ability to search SteemGigs 'by user':
To this effect, we have added more fields to our 'edit your profile' portal. These new fields allows every steemian to create an in-depth steem profile. Even where such steemian hasn't offered a gig, users can search these potential SteemGiggers during their search, connecting with these ones for a potential SteemGigs experience.
In the near future...., we intend to build a search engine mechanism that is capable of scanning the entire steem blockchain for potential talents/un(dis)talents.
The Teardrops SMT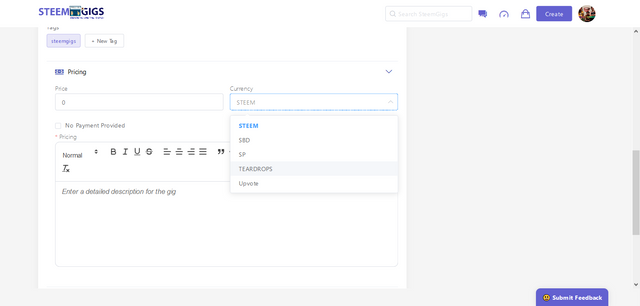 The teardrops tokens will power the steemgigs.org ecosystem in conjunction with the 'steem currency'. The teardrops token will be an SMT in the future. This means, that among other utilities for teardrops, it will form a 'token of influence' on steemgigs.org
We have started integrating the teardrops token into the current version of SteemGigs. This means that even now, you will be able to offer or pay for gigs using the teardrops tokens. You can also avail of services from 'https://steemgigs.org/bropro' using only the teardrops tokens.
To highlight even further the role of the teardrops tokens across the SteemGigs ecosystem, we have integrated a 'fully functional steem-wallet in conjunction with a teardrops-wallet'. This means that you can now transfer, power-up and pay for gigs (whether steem, SBD or teardrops), without leaving SteemGigs. 
See images: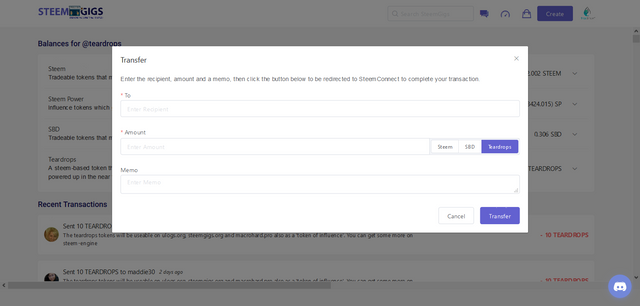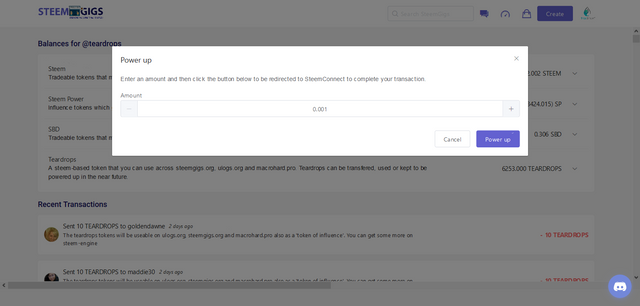 You can get some 50 teardrops tokens here if you haven't or get some on steem-engine here!
Discord Community
SteemGigs is very community-based! To this effect, we have added a chat-area to our UI that features the SteemGigs discord community (which has some 5400 members). See image:


The 'Certified Ulogger Algorithm'
All UI-perks will be available exclusively to 'certified uloggers' and we have began implementing the algorithms to enable this. We maintain a dynamic grey-list of certified uloggers, who will also constitute 'the certified' on https://steemgigs.org and these users will be the face of our ecosystem. 
Currently, we have added some UI-perks for these ones, such as 'a delegate button' and 'a certified' badge as seen on the image below: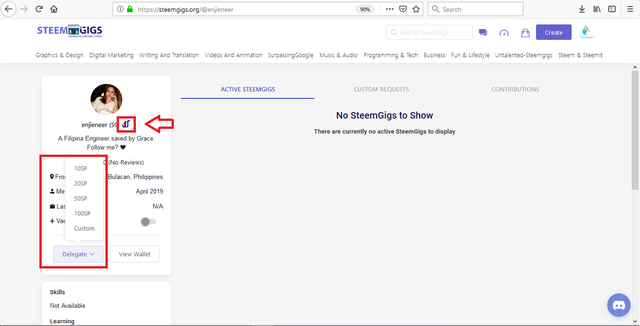 Future iterations of 'the certified ulogger algorithm' across SteemGigs thus, can be implemented fast and easily.
Sorting And Filters
We have carried out a basic implementation of the 'sorting & filters' functionality to enhance 'search' experience for our users. Though basic, users can search SteemGigs more efficiently but also, contributing-developers can enhance this functionality more easily. 
See image:
Near Future
In our first phase of development, our aim was simply to highlight the expanse of our vision to users, contributing-developers and potential investors alike. 
SteemGigs isn't just freelancing, it is dream-building marketplace but beyond being dream-building, it uses the steem blockchain protocol. We aren't here to replay an existing tech on the steem blockchain, simply in a bid to distribute rewards. We are here to adjust the world. 
To this effect, we intend to explore fully the beauty of the steem blockchain and its community and play out fresh algorithms and this is what we will try to highlight via our UI, even in the near term.
Overall, SteemGigs is modeled to 'mine the human' (proof of tears), a slight shift away from 'proof of brain' and this is something we would like to highlight even in the near term and which we have begun to, with the integration of the teardrops wallet and the 'certified uloggers algorithm'.
Over the course of the coming weeks, we will continue to solidify the existing features of SteemGigs and continue to integrate the teardrops tokens into our ecosystem, so that it begins to be usable and earn-able, even prior to the SMT functionality.
Support Us

Our witness name is 'steemgigs' to represent; "everyone has something to offer". You can vote for the 'steemgigs' witness to support us. Simply visit https://steemit.com/~witnesses and upvote 'steemgigs' or click here to vote via steemconnect.
If you would like to delegate some steem power to '@steemgigs', that will be valued too. You can delegate a custom amount of steem power to @steemgigs using this tool. 
Too, if you are a developer or anyone who passionately loves the steemgigs.org project you can take on unassigned tasks on our GitHub account.
Where you are interested in contributing code to other project under the teardrops SMT ecosystem e.g 'https://ulogs.org' and '@macrohard', you can take on unassigned tasks on the Ulogs GitHub account and send an email to [email protected] if you are interested in @macrohard
Finally, if you are a potential advisor and one who can help with directions, suggestions and connections, please join in too by sending an email to [email protected] 
To conclude, an inevitable way of supporting the SteemGigs project is by using 'https://steemgigs.org'. It is for everyone, so kindly visit it today. 
You can get some 50 teardrops tokens here if you haven't or get some on steem-engine here!
Join The Community
See what our beautiful community is saying:
Then, here is a short talk that discussed 'the SteemGigs project' recently, which took place on Utopian's Idea Hub:
We have more than 5,500 steemians in our community. You can join us too by visiting these links:
Discord: https://discord.gg/wWrnSXK
Telegram: https://t.me/teardrops_smt
Twitter: https://twitter.com/steemgigs
Facebook: https://www.facebook.com/steemgigs/
FootNote 
The teardrops token will also form a token of influence on each of these three steem-based websites; 'https://steemgigs.org', 'https://ulogs.org' and '@macrohard' etc
Besides, staking the teardrops token for influence on these interfaces, these tokens will have many other uses. We will incessantly and dynamically innovate ways for this to be the case. This will be discussed in details when the teardrops SMT colorlesspaper is published.
In the coming days, we will publish a mini 'colorless paper' for the teardrops SMT, covering 'the now'.
The teardrops token is also currently on steem-engine but only a small portion of it was issued and on the steem-engine market, to help us gain insight into the 'dynamics of the tokens on an exchange'. 
https://steem-engine.com/?p=market&t=TEARDROPS (Currently priced at 0.1 steem each)
Get some teardrops tokens here today. Funds raised will go towards the development of https://steemgigs.org
Visit SteemGigs Today
Your boy Terry